Coming into the 2017/18 NBL season, many pundits had touted Melbourne United as one of the most star-studded rosters of all time. They came off an underwhelming 2016/17 campaign under American Head Coach Dean Demopoulos and wanted to close the gap between expectation and reality.
The first order of business was the hiring of a new Dean – this time, Vickerman – to be their new head man. United needed a coach that would preach a fresh culture. One that would be built on the foundation of defence and ball movement. The offence last season suffered due to the lack of a real offensive system; rather just a series of offensive sets that resulted in frequent isolations if it broke down.
Next up was the construction of the roster. They retained star imports Casper Ware and Josh Boone along with key pieces Chris Goulding, David Andersen, Majok Majok, Tai Wesley, David Barlow and Kyle Adnam. They also acquired Craig Moller and Peter Hooley (Daniel Dillon's injury replacement) and made the biggest coup of the signing period.
They put pen to paper with marquee free agent Casey Prather from the Perth Wildcats. "The Panther" added the much needed two-way All-NBL presence on the perimeter to compliment Goulding, Ware and Boone.
If you look at the most successful franchises around the world, continuity and sustainable chemistry are at the forefront of their organisational goals. Melbourne United wanted to be in that discussion as evident by their transactions.
United started out the season with a shaky 2-3 start which included a three-game losing streak. The media around the NBL began to wonder if it was all another "all hype, no substance" type season for Melbourne. It had taken some time for the team to be in sync, but over the last 8 games, it seems like the pieces have fallen into place.
Melbourne United have won 7 of their last 8 contests after the 59-91 beatdown by the Perth Wildcats on November 19th. This form includes a present 6 game winning streak. The last 4 games have been without Prather who is expected to be sidelined for another 4-8 weeks with a dislocated elbow. American import Carrick Felix has since been brought in as his injury replacement.
With all the offensive star power that runs throughout their roster, you would expect them to be scoring at an extremely efficient rate and be amongst the upper echelon in offensive rating. But not so much.
It has been their stalwart defence that has held a solid floor for the team to stand on. They are the number one ranked defence with a defensive rating of 105.8 which is outright at the top. It gets even better over the last eight games as they boast a stellar 100.5 defensive rating.
Melbourne's rotations throughout the season have been a bit unpredictable with injuries to key players such as Goulding and Prather, but Vickerman has shown he is willing to play any of his active eleven players as long as they defend. Anyone from Josh Boone to Craig Moller could be benched for their lackadaisical defensive effort. Speaking of Moller…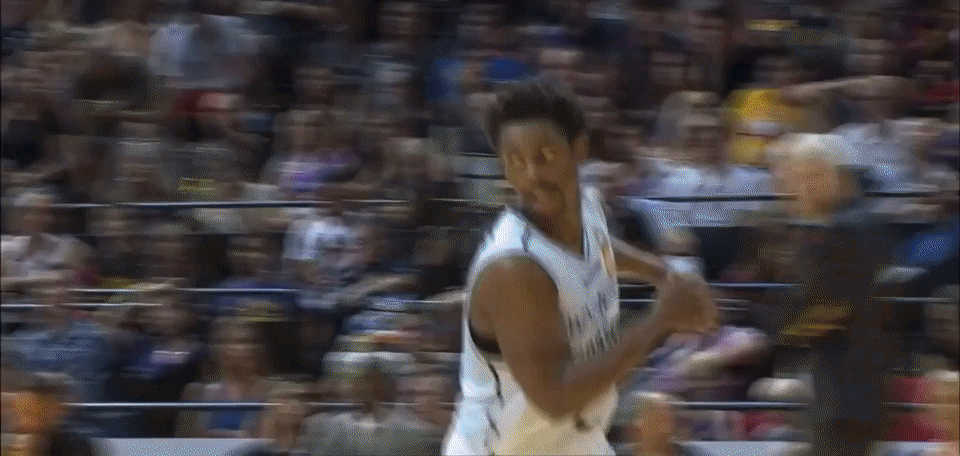 Moller recognises that Ware is a step behind Jerome Randle after he receives a hand-off and is headed downhill. Moller comes across from the weak-side and deters Randle's shot at the rim. A lot of players at the "low I" would either not be flat enough to see both man and ball, lose track of their assignment or not come across to help at all. Moller did all three.
Melbourne United have been much better this season containing perimeter penetration especially on pick-and-rolls, but the major improvement has come from the second-line defence. Vickerman has held the team accountable and made sure everyone plays their role in executing the defensive gameplan. Melbourne's roster makeup has also helped in upping the ante on defence. Retaining elite defenders in Boone and Ware while signing Moller, Prather and now Felix have boosted the arsenal at the disposal to "Vick".
United have been able to mix up their defensive scheme with a sprinkle of a 2-3 zone.  One of their guards will signal it by a "tap on the head". In this scenario, Goulding makes the gesture after a made basket.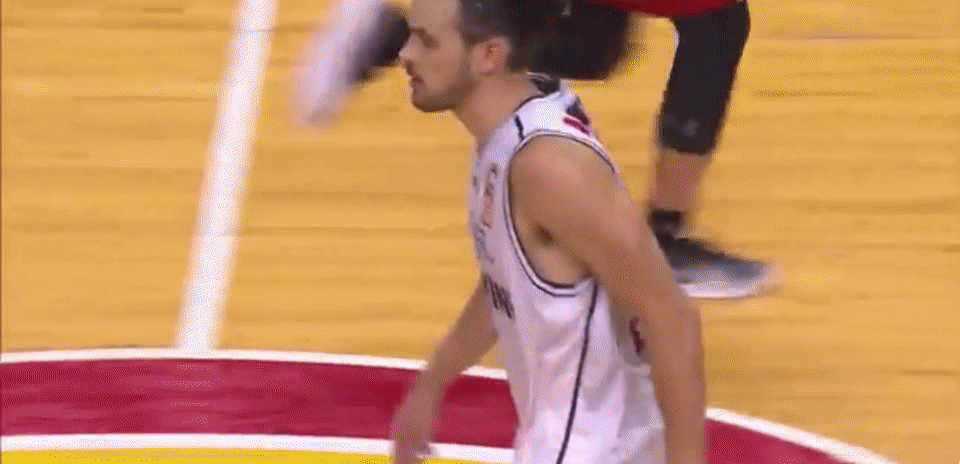 The zone defence has been a wild card for the top ranked United defence that strangles opponents to a 47.8% effective field goal percentage. It has been especially effective as of late since their offence has been more potent. Defensive transition begins with offensive execution, and it is much easier to set up a zone off a made basket, as opposed to frantically tracking back in transition.
A curveball like this can really throw an offence off especially when they are expecting to face a half-court man-to-man defence, and it can result in low percentage looks.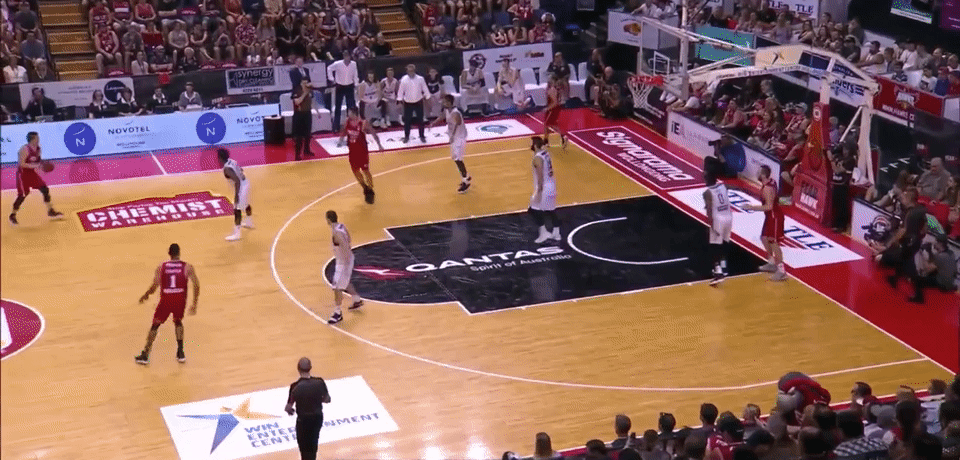 By all means is Rotnei Clarke amongst the most irrationally confident players in the league, but four dribble, pull-up contested triples are low expected value attempts by any metric. The final aspect to any defensive possession is ensuring that you actually finish it; securing the defensive rebound.
Melbourne rank first in defensive rebounding percentage (73.7%) and it has been a team mentality to clean the glass. No United player averages over 6.5 defensive rebounds a game which means anyone from Boone to Adnam has chipped in. This played a major part last round in their 18 point comeback against the Illawarra Hawks where they grabbed 34 defensive rebounds (81% DREB).
"As long as they come in and play their defence, they're going to find their minutes", Vickerman told the media.
United have been more consistent and polished in their defensive execution in comparison with last season, and it has kept them in games all season long as they waited for their offence to catch up.
Speaking of offence, Melbourne have really kicked it up a gear on that end of the floor. They have an offensive rating of 111.6 on the season, but it has gone up to 112.9 during this stretch. They both rank in the top half of the league and there are a few variables that factor into the improvement.
United's steady defence has kept them afloat in contests which correlate in less outings when they are tense playing catchup. Another is the improved production from their offensive stars. We all know what Boone (12.9 ppg on 64.2% FG), Prather (17 ppg on 46.6% FG) and Wesley (11.4 ppg on 50.6% FG) offer.
Boone will screen-and-roll, grab offensive rebounds, rim run and do all the little things for a winning team. Prather's game is ever-evolving, what can't he do? Wesley can play on the low block, make the right pass or utilise his deadly right jump hook. Tai is also shooting the triple at a solid rate (37.1%) where he has to be respected from beyond the arc. We have also seen Carrick Felix chip in on this end as well, averaging 13.5 points and 8.5 rebounds through two games.
Vickerman's motion offence is predicated on ball movement and attacking the space. Take what the defence gives you and be aggressive. It has resulted in a more egalitarian shot distribution where six players are attempting at least nine field goal attempts a game. In comparison with last season when there was only three players, it is a major improvement.
Two stars that were not mentioned were the members of their backcourt; Ware and Goulding. "Cass" is slowly trending in the right direction after his sluggish start but it is the man United faithful call "CG43" that has really shown up (especially after the Prather injury). Let's look at this analytically first:
Player A: 13.1 points, 40.5% FG, 41.5% 3P, 55.1% EFG, 57.7% TS, 70.2% 3PAr
Player B: 16.8 points, 43.6% FG, 45.2% 3P, 59.9% EFG, 63.3% TS, 72.3% 3PAr
Player A is Goulding this entire season while player B is Goulding over the past eight games. The numbers tell you that he is allocating a larger portion of his shots to 3-point attempts, and his efficiency and point production have jumped.
He has received more looks since Prather has gone down and his replacement (Felix) is more of a swiss-army knife than a pure scorer.
"He's just had some little patches where he's broken out and kept us alive", Vickerman told the media.
Goulding is much more effective when he simplifies his game. "Shooters shoot" as the saying goes. He has displayed much more conviction at shooting the rock and has morphed back into the best version of himself. We all know what he is best at; shooting. But the shot selection has improved. He is sticking to spot-ups, one dribble pull-ups and catch-and-shoot looks.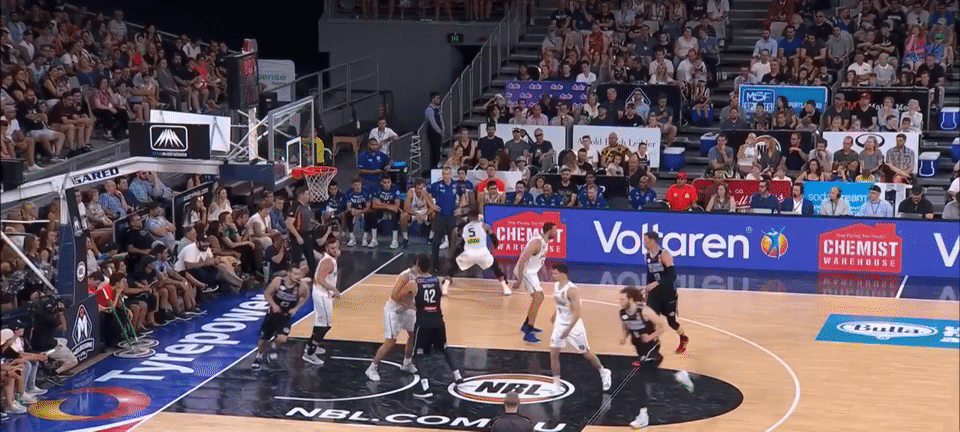 Vickerman has integrated actions that have Goulding (and his gravity) running off picks to generate high value shot attempts. A double pin down that results in a switch with Tom Jervis on Goulding is always a good thing.
Previously, he would have wasted the mismatch with a host of dribbles and attempted a bad shot. Not recently. Goulding sizes him up for a split second and drills the long range bomb.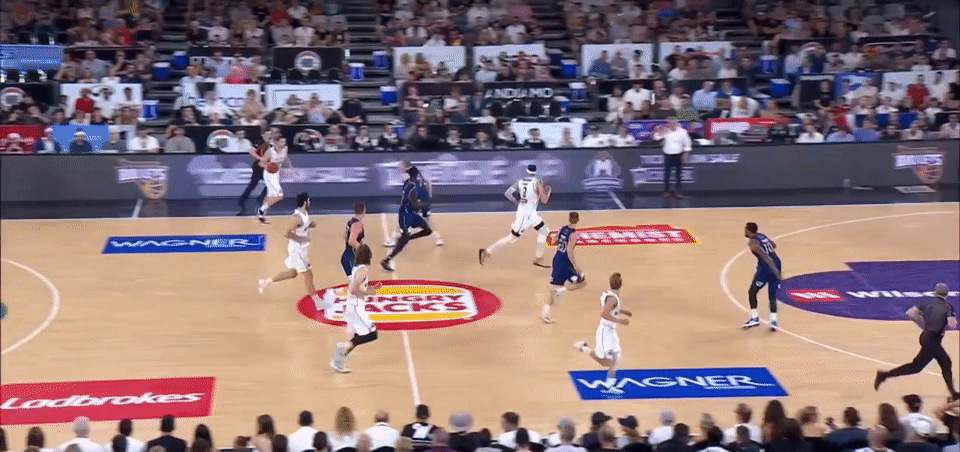 Speaking of not being wasteful on the dribble, Goulding has reduced his touches to one/two dribbles as much as he can. Recognising your limitations is a sign of maturity and although he is not known for his ball-handling, it can be utilised just enough to get to his spot. Goulding shakes Brendan Teys on the side pick-and-roll and raises for a three pointer.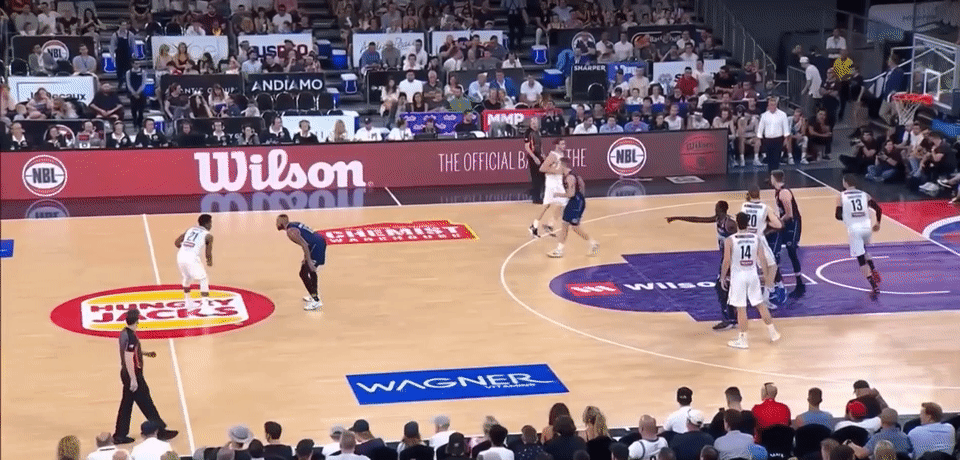 Another set where Goulding is running a defender (Nathan Sobey) ragged off a curl. He garners enough separation to send home this catch-and-shoot look. Book it. Cash money. Rain drop. However you want to phrase it.
There are two skills that a team can never have enough of in the game of basketball; rebounding and shooting. We know United have the former covered, but the shooting is catching up. Goulding's sharpshooting may be second to none in the NBL. It can raise the ceiling of this offence to another level and there is probably no better shooter in the league when his feet are set.
Everyone from the rolling bigs (Boone, Majok, etc) to the cutters (Moller, Felix, Ware, etc) benefit from CG's red hot shooting. Teams are unable to leave from the weak-side to help on drivers and it stretches the defence thin. If this form continues, you can expect their third ranked effective field goal percentage (52.3%) to rise even further. Andersen and Majok are set to return soon as well.
Melbourne United will put their new found groove to the test when they travel out west to take on the Perth Wildcats at the jungle. United have struggled there recently and if they are able to get over this hump, watch out. The league will be put on notice.
Coverage starts at 9:30 p.m. Australian Eastern Daylight Time on Fox Sports 503.
P.S. Hope you all feel as slick as Huddo in 2018.