As the year of 2017 wraps up, we pass the halfway point of the 2017-18 NBL season. With the launch of BTA's NBL content, what better time to release our first import power rankings. Every NBL team is allowed up to three imports and although they can be a little volatile and unpredictable in terms of production, they can also be impactful and building blocks long term. We will dive into the elite imports so far this season.
(Note: Usage rate (USG) is the percentage of time the possession finishes with a player, whether it's a field goal attempt or a turnover. Effective field goal percentage (EFG) is similar to regular field goal percentage but includes the valuation of the extra point in 3-point field goals. True shooting percentage (TS) determines the player's efficiency at shooting the ball. Whether that's from the field, three or the free throw line.)
1. Demetrius Conger – Illawarra Hawks
Statistics
18.9 points, 5.9 rebounds, 2.4 assists, 1.0 steals, 0.5 blocks, 2.7 turnovers
54.5% FG on 11.8 FGAs, 33.3% 3P on 3.2 3PAs, 80.2% FT on 6.1 FTAs
25.9% USG, 59.1% EFG, 65.1% TS
Team record: 6-9 (7th)
Breakdown

Conger was signed as a relative unknown to Australian fans, but he has landed on the scene as an impact import. He ranks third in NBL scoring and does it at the most efficient rate in the league. Not only is the 54.5% FG impressive to the naked eye, but the advanced metrics support the eye-test.
The Brooklyn native has shown he is able to produce in bulk while taking on a large workload for the Hawks. He boasts superior athleticism where he is able to gain an advantage off the dribble, even against the league's elite defenders.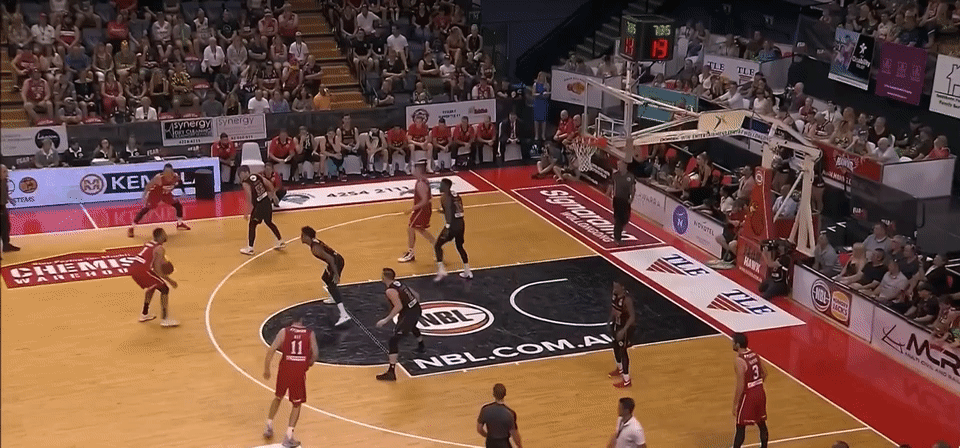 Conger has the wiry frame and ambidextrous ball-handling ability to get to any spot on the floor. However, his handling may require some refinement as it has been a detriment to his possession management. His finishing ability only adds to the devastation of his offensive toolbox where he is able to drive and slither around the defender, or simply rise over them. This is why he gets to the line so frequently, where he is also efficient.
The one area where Conger has a flaw is his jump-shooting. Inside the arc, his percentages are considerably higher than his 3-point shooting (33%). Teams that have schemed to make him a jump-shooter have had better luck in decreasing his sky-high efficiency.
He counters that with his ability to score in the post. He is able to back down his defender and go over both shoulders to get high percentage looks. Conger is also capable of passing out of the block, and his facilitation translates to the pick-and-roll game too.
Not only does he provide value in terms of scoring, but also on the glass. Averaging close to six rebounds a game, he is able to use his "bounce" and strong hands to clean his own glass or terrorise the opposition's.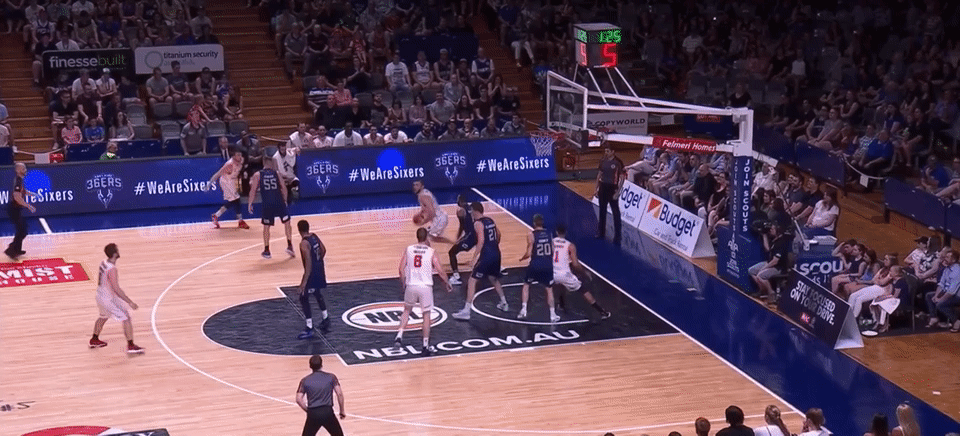 The rebounding battle often dictates the pace of the game and the stress it plays on a teams defensive fragility. Conger happens to be an asset on that end too. The defensive versatility comes in his ability to guard four positions and using his length to disrupt opponents on pick-and-rolls. However, his footwork around picks could use work. He does find himself squaring up to the screener too often.
The two-way ability of Conger has proven to be a bright spot for an Illawarra team that has been inconsistent during the first half of the season, but if the Hawks want to make the playoffs, he must be at the forefront of the charge.
2. Bryce Cotton – Perth Wildcats
Statistics
19.4 points, 2.9 rebounds, 2.8 assists, 1.3 steals, 0.1 blocks, 1.8 turnovers
43.6% FG on 14.7 FGAs, 44.4% 3P on 6.6 3PAs, 83.3% FT on 4.4 FTAs
25.4% USG, 53.6% EFG, 58.4% TS
Team record: 10-5 (2nd)
Breakdown
The Wildcats general has not quite replicated his stellar 2016-17 campaign, but it has been effective nonetheless. Cotton leads the league in scoring and is the best player on the NBL's second best team. His efficiency (FG%, FT%, EFG%, TS%) has taken a dip but the fear of Cotton dropping 45 points still constantly appears into the opponent's minds.
His shot creation is uncanny where he's able to weasel through every nook and cranny. Cotton's tight handle along with his capacity to shift gears and change directions result in unguardable looks.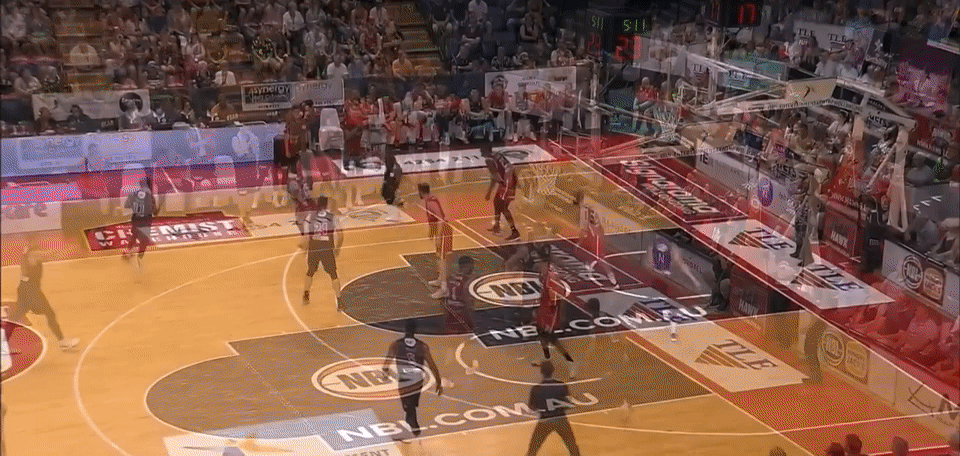 The threat he possesses out of pick-and-rolls cause nightmares for rim protectors. He is able to dictate his own shot selection depending on the defence. If the big drops back and is hesitant to contest his jump-shot, then that will be there all night. If the big steps up, the drive or pocket pass are available.
Cotton is the general of the best offence in the league, but only averages 2.8 assists a game. Assists are not always the best indicator of unselfishness as Cotton is able to make the right pass, but he's more of a shot creator than a playmaker. The return of Damian Martin will lessen the playmaking burden too.
Indirect assistance does come in the form of his spot-up shooting. He is a major threat from beyond the arc, especially with his feet set.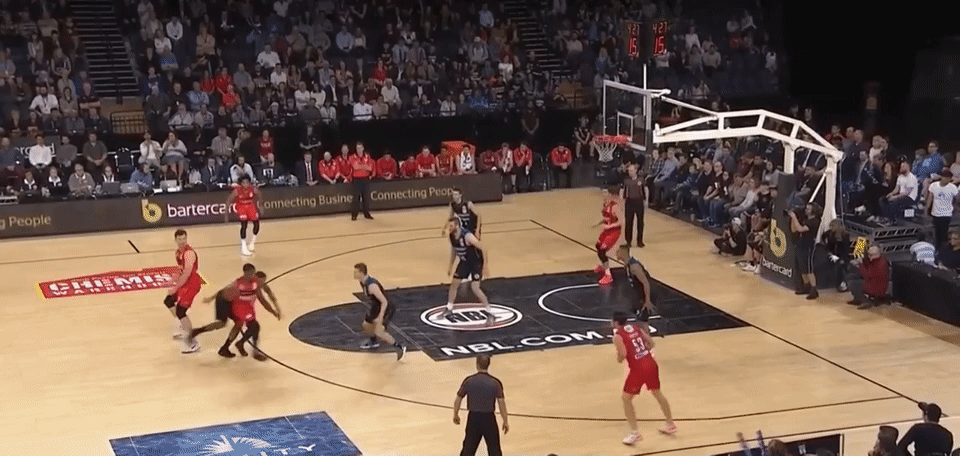 His shooting presence alone draws the attention of rotational defenders and they are hesitant to leave him. In turn, this opens up lanes for his teammates to exploit. Ask Lucas Walker. Cotton is a player where the on/off court and lineup metrics show how valuable his presence is on the court.
Perth have started off their title defence in a good manner by sitting second on the standings, and if they want to complete their quest for a three-peat, then you can expect Cotton to play a major role.
3. Casey Prather – Melbourne United
Statistics
17.0 points, 5.4 rebounds, 2.6 assists, 1.5 steals, 0.6 blocks, 2.1 turnovers
46.6% FG on 13.6 FGAs, 37% 3P on 3.9 3PAs, 80% FT on 3.6 FTAs
26.8% USG, 51.8% EFG, 55.9% TS
Team record: 10-6 (3rd)
Breakdown
Casey Prather was really starting to click into mid-season form before a freak elbow dislocation injury which occurred a fortnight ago at Illawarra. He is expected to be sidelined for another six weeks which does put his regular season availability at risk. He is expected to play the last 3-4 games before the playoffs (if United make it).
Despite this, the "Panther" has proven that he belongs in the league's upper echelon once again. His two-way ability has been one of the consistent pillars on a Melbourne United squad that has been relatively inconsistent. It all starts with his high-flying transition play.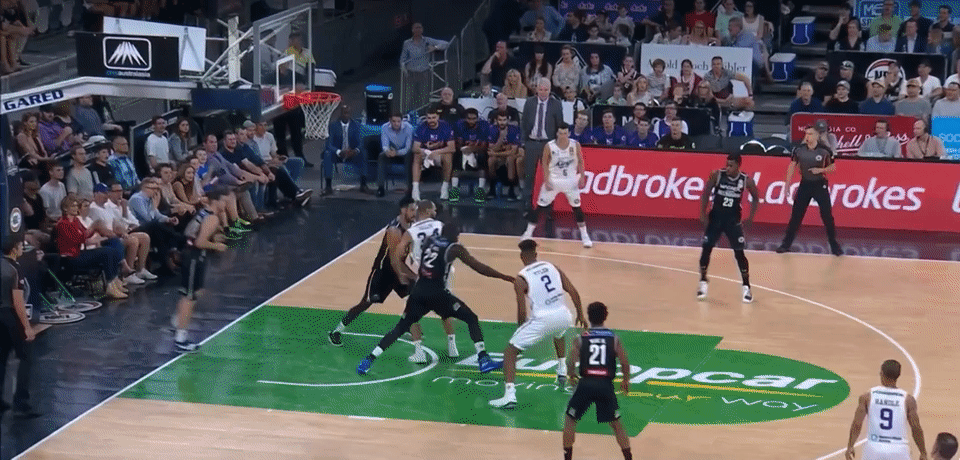 He is able to get end-to-end in a heartbeat and makes it look effortless. There might not be a worse predicament to be in than guarding Prather in transition. The former Perth Wildcat has always had the elite athleticism from the second he step foot in the league, but it's the development of his jump-shot that has enhanced his potential.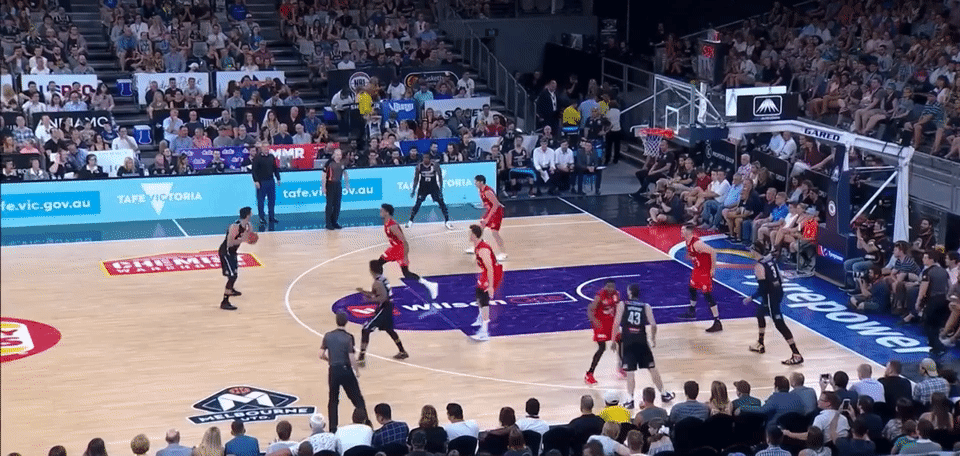 It has opened up his game to the point where is not just a slasher, but rather a potent all-round scorer. His FG%, 3P%, EFG% and TS% have all risen from last season as he becomes deadlier in the half-court. "CP's" free-throw attempts per game have almost halved as he improves his perimeter efficiency.
When he returns from his injury, look for Prather to show a more balanced game. He is capable of putting the ball on the floor and getting inside the paint, and to the line.
Another aspect that Prather has proven to be more than capable at is his overall defensive presence. Whether it's in a pick-and-roll, from the weak-side or in isolation, Prather has proven to be the catalyst to United's number one ranked defence.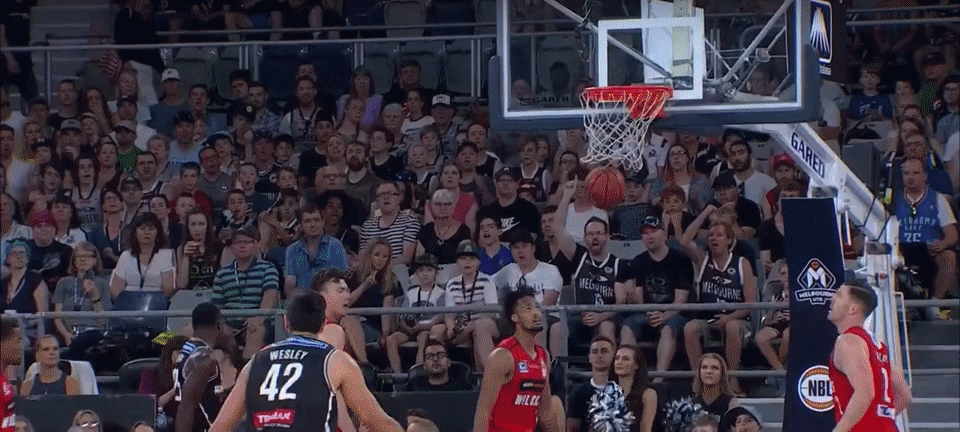 Jean-Pierre Tokoto may be an NBL freshman, but he is certainly no slouch. Prather is able to shuffle his feet and use his active hands to get the clean steal and turn defence into offence in an instance. Regardless of if Prather is producing offensively or not, he remains one of the league's most consistent and elite defenders.
He earns his keep on that end and is not a temporary/emotional defender (as we like to call them). This includes finishing defensive possessions where he grabs 3.8 defensive rebounds a game.
Prather will be hoping Melbourne United along with new recruit Carrick Felix are able to  keep the ship afloat as he recovers in time for the playoff run. If he comes back and slots in seamlessly, watch out. He could be what turns the title race upside down.
4. Perrin Buford – Brisbane Bullets
Statistics
16.2 points, 8.2 rebounds, 2.0 assists, 1.2 steals, 1.1 blocks, 2.0 turnovers
50.7% FG on 12.6 FGAs, 40.7% 3P on 1.6 3PAs, 68.1% FT on 4.1 FTAs
24.3% USG, 53.3% EFG, 56.2% TS
Team record: 7-10 (6th)
Breakdown
The Bullets have had an underwhelming season as they look to bounce back from their awful 2016-17 campaign. One player that has helped them stay alive is Perrin Buford. His performances have earned him "Most Valuable Player" recognition during the year. Buford is another athletic import that enters the league and has dominated the competition by overwhelming opponents with his imposing game.
He ranks second in the league in rebounding and for good reason. He's able to use his athletic prowess to attain rebounds which includes simply towering over a pack.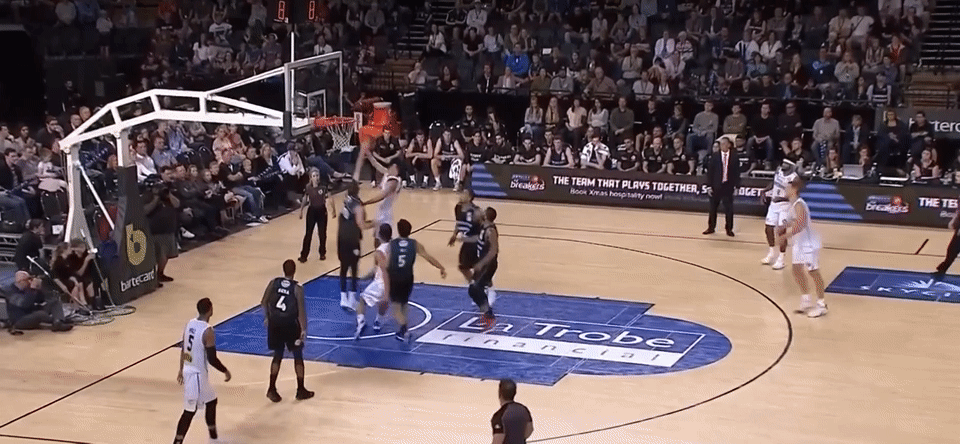 This translates into his scoring where he's an effective driver where he can poke and probe in order to get to his spot. He has a solid mid-range jumper and has been efficient from three despite the relatively low volume. The shot creation has proven to be consistent enough on a top-3 offence, but the issue comes from his ball-stopping habits.
He's a efficient enough scorer where this may not matter, but that could mean he is due for a regression. He has the tendency to create only for himself and lacks any real playmaking awareness. The tunnel vision has resulted in the flow of the Bullets' "continuity offence" to halt at times.
The system is predicated on a lot of perimeter action to keep the paint open for exploitation. Head Coach Andrej Lemanis relies on his players to read and react off the catch, not pound the pumpkin.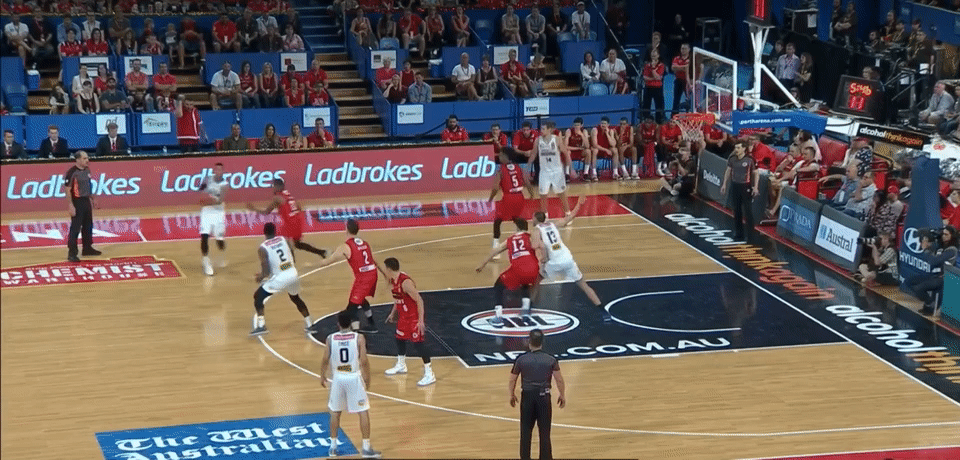 Any point where the motion stops for the defence to recover ruins all the build up movement that was initiated to generate a good shot. It is no coincidence that the Bullets often take shots with less than seven seconds on the shot clock.
Buford needs to be more decisive and aggressive on the catch. Capitalise on heavy closeouts instead of allowing recovery and setting up isolations for himself. The former will be more conducive for an egalitarian scoring distribution. Others like Stephen Holt and Daniel Kickert will only benefit from this.
With all that being said, Buford is still a highly efficient and effective scorer that has been their lone consistent piece. Brisbane are only two games out in the loss column with eleven games to play. The small details are required for them to make a real run, and it all starts with Buford.
Can he make these changes? Or will he continue to be an "empty calories" player on a below average team?
5. Jean-Pierre Tokoto – Perth Wildcats
Statistics
16.7 points, 6.1 rebounds, 2.9 assists, 2.0 steals, 0.6 blocks, 2.9 turnovers
47.9% FG on 12.8 FGAs, 25% 3P on 1.9 3PAs, 74.4% FT on 5.5 FTAs
28.9% USG, 49.5% EFG, 55% TS
Team record: 10-5 (2nd)
Breakdown
The former North Carolian Tar Heel was signed as an import replacement during the preseason after Corey Webster and then Devondrick Walker were released.
"The best athlete in the league".
That was what Wildcats head coach Trevor Gleeson had to say about him prior to his NBL debut, and boy has he hit the league with a bang. Arguably the most explosive athlete in the competition, he has provided Perth the athlete they were seeking once Casey Prather took his talents to Melbourne.
Like Prather, he boasts elite speed and athleticism. He reminds you of when Prather first entered the league. Blowing opponents off the dribble while getting to the line at will (5.5 FTAs a game). Tokoto has a nice change of pace in his arsenal where he can hesitate, then explode into fifth gear. It is especially dangerous in the pick-and-roll.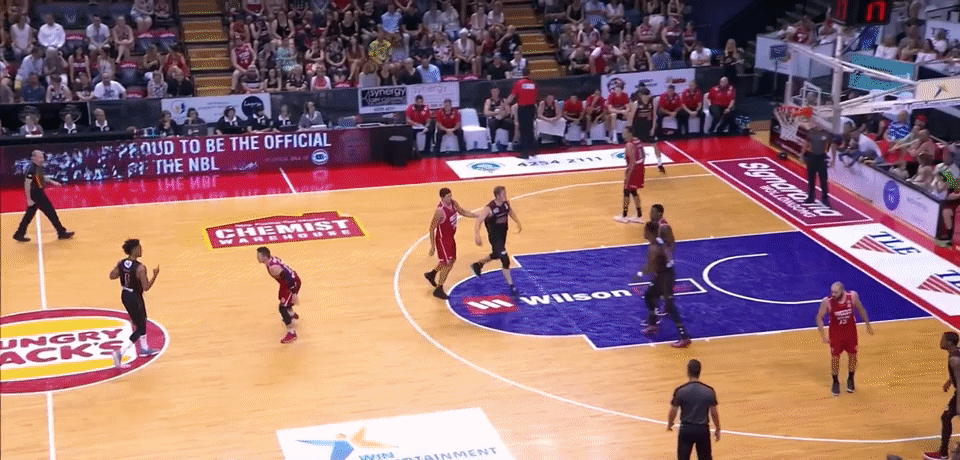 He is amongst the elite slashers in the league already and has shown that his finishing rate is sustainable. Another area where his explosiveness translates is in the transition game. He's able to go coast-to-coast before you can say "egg sandwich".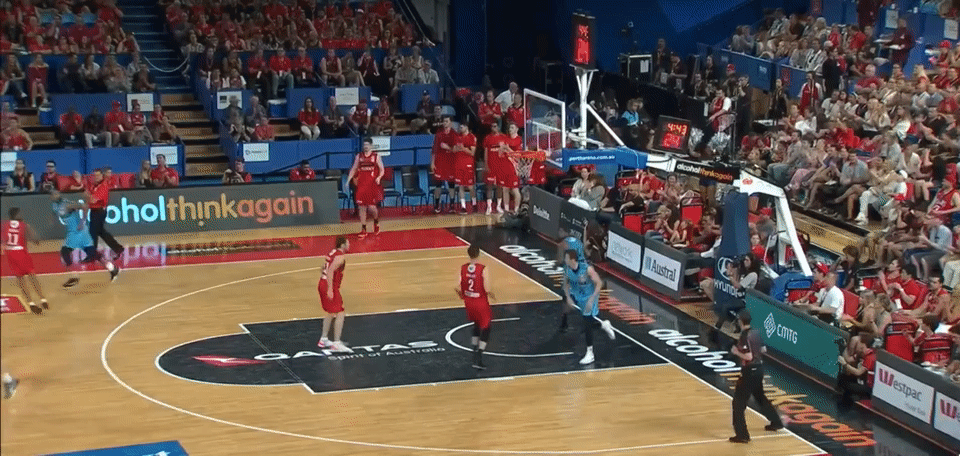 "J.P." replicates most wing imports by being excellent perimeter defenders. He is able to switch one-to-five and guard every position, whether permanently or on a temporary basis. He steps up to the challenge and has nifty feet to jump over screens and lock onto the handler's hip. Add to the fact that Tokoto is also an alert rotational defender and you have yourself a bona fide defensive demon.
The only downfall – a major one at that – are his shooting deficiencies. Deduct his three point shooting and he is a 50.9% 2-point shooter. This mark could even be higher if he didn't settle for jump-shots. Like Conger, teams that have countered Tokoto to make him a jump-shooter have seen it's benefits. But that is easier said than done. J.P. is often too big and long for his defenders as he can get any shot he wants.
Tokoto along with Cotton provide the Wildcats a reliable core in their quest for back-to-back-to-back championships. They have been uncharacteristically average defensively this season (4th in defensive rating) and for a championship caliber team, that needs to change soon.
One player that needs to continue to set that high bar defensively is Jean-Pierre Tokoto.
Rest of the Pack
6. Josh Boone – Melbourne United
12.8 points, 10.2 rebounds, 0.4 assists, 0.4 steals, 0.8 blocks, 1.2 turnovers
61.8% FG on 9.5 FGAs, 38.1% FT on 2.6 FTAs
22.2% USG, 61.8% EFG, 59.8% TS
Team record: 10-6 (3rd)
7. Rotnei Clarke – Illawarra Hawks
19.0 points, 2.5 rebounds, 3.1 assists, 0.4 steals, 0.1 blocks, 2.1 turnovers
43.5% FG on 13.3 FGAs, 43.9% 3P on 7.1 3PAs, 91.4% FT on 4.7 FTAs
25.4% USG, 55.2% EFG, 61.7% TS
Team record: 6-9 (7th)
8. Casper Ware
14.5 points, 3.0 rebounds, 4.8 assists, 0.9 steals, 0.2 blocks, 2.1 turnovers
37.2% FG on 12.4 FGAs, 35.3% 3P on 7.2 3PAs, 89.6% FT on 3.0 FTAs
21.2% USG, 47.5% EFG, 52.7% TS
Team record: 10-6 (3rd)
9. Perry Ellis
16.0 points, 5.6 rebounds, 1.3 assists, 0.5 steals, 0.3 blocks, 0.8 turnovers
50.2% FG on 12.2 FGAs, 46.9% 3P on 2.9 3PAs, 69.5% FT on 3.5 FTAs
21.0% USG, 55.8% EFG, 58.4% TS
Team record: 5-13 (8th)
10. Edgar Sosa
15.2 points, 1.8 rebounds, 3.6 assists, 0.9 steals, 0.1 blocks, 2.1 turnovers
39.1% FG on 12.0 FGAs, 37.6% 3P on 6.3 3PAs, 87.5% FT on 4.0 FTAs
25.3% USG, 49% EFG, 55.4% TS.
Team record: 11-5 (1st)
Team Efficiency Ratings Update
Efficiency ratings are calculated in order to remove all the moving variables around the numbers and attempt to find a happy medium amongst all competitors. Offensive rating is calculated by total points scored relative to each teams pace, and then it is multiplied by 100 (possessions) as a common denominator. Defensive rating uses total points conceded instead to total points scored.
The results will show how efficient a team is at scoring or defending at a per possession basis. For example, if Melbourne United have an offensive rating of 110.4, then that is how many points they would score on aggregate if they used 100 possessions. If they have a defensive rating of 106.0, then that is how many points they would concede if they defended 100 possessions.
The NBL play shorter games and therefore their possessions used are closer to 80 as opposed to 100 like the NBA. For simplification purposes, we will stick to "per 100 possessions". We will provide updates throughout the course of the NBL season.
As of Round 12, these are the league's efficiency rankings:
Offensive Rating
Perth Wildcats: 119.2 (points scored per 100 possessions)
New Zealand Breakers: 115.6
Brisbane Bullets: 112.5
Adelaide 36ers: 110.9
Sydney Kings: 110.7
Illawarra Hawks: 110.4
Melbourne United: 110.4
Cairns Taipans: 108.9
Defensive Rating
Melbourne United: 106.0 (points conceded per 100 possessions)
Cairns Taipans: 107.5
Adelaide 36ers: 109.8
Perth Wildcats: 110.0
New Zealand Breakers: 113.7
Illawarra Hawks: 113.8
Brisbane Bullets: 116.2
Sydney Kings: 119.2
Net Rating
Perth Wildcats: +9.2 (points per 100 possessions)
Melbourne United: +4.4
New Zealand Breakers: +1.8
Cairns Taipans: +1.4
Adelaide 36ers: +1.1
Illawarra Hawks: -3.4
Brisbane Bullets: -3.8
Sydney Kings: -8.6